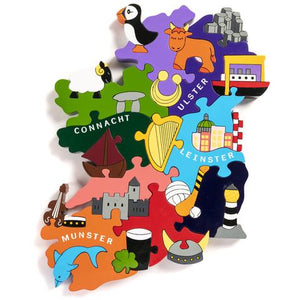 Our New Ireland jigsaw puzzle is a wonderful introduction to the rich natural and cultural heritage to be found on our shores. Individual pieces show many of Ireland's national treasures and traditions as well as some of our more celebrated wildlife. The Map also shows the 4 provinces of Ireland and some important landmarks: 
A Harp, Dublin's Pigeon Loft and 4 Courts, a Galway Hooker, The Titanic, The Giant's Causeway, a Dolmen, a Fiddle and Bodhran, Hook Head Lighthouse, a Viking Helmet, a Puffin, a Sheep, a Cow,  Fungy the Dolphin, The Glensheen Collar, A Hurl, Sliotar and Football and finally a pint of the black stuff! 
Hand painted in vibrant colours, this educational map jigsaw puzzle provides the perfect way for the whole family to learn about the island of Ireland.