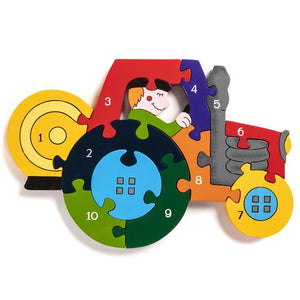 This jigsaw of a friendly farmer in his tractor is a perfect introduction to puzzle making for younger children and toddlers.
Hand painted and brightly coloured, the chunky and durable pieces of this toddler jigsaw puzzle are perfectly sized for little hands to put together and are numbered from 1 to 10.
This handcrafted wooden jigsaw puzzle is designed to encourage dexterity and logic and will make learning to count fun!