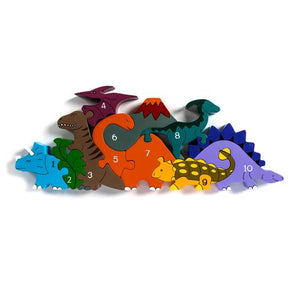 Our new Dinosaur Row number jigsaw puzzle is a great way of introducing children to the incredible world of Dinosaurs: Tyranosaurus Rex, Anklyosaurus, Parasaurolophus, Stegasaurus, Brontasaurus, Pterodactyl and Triceratops are all included in the set.
All of the Dinosaurs stand up and can be played with as toys, so kids can a create a beautiful prehistoric scene complete with erupting volcano and foliage. 
Hand painted and brightly coloured, the chunky and durable pieces are numbered 1 to 10 and are perfectly sized for little hands to play with and assemble. 
This handcrafted wooden jigsaw puzzle is designed to encourage dexterity and logic and will make learning to count fun!