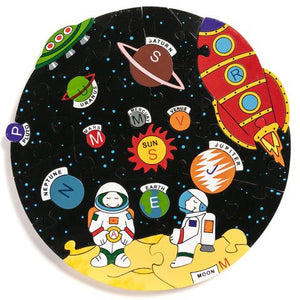 Space, the final frontier… This wonderful wooden jigsaw puzzle will help your child learn about the Solar system and the amazing planets within it. Complete with some astronauts, a rocket and even a UFO, this kids jigsaw puzzle is both fun and educational.
Our Solar System jigsaw puzzle provides a brilliant way for children to see the earth from space and to contemplate our place in the universe. Expect some difficult questions!
Hand painted in vibrant colours, the chunky and durable pieces of this wooden jigsaw puzzle fit together beautifully and are nicely sized for little hands to build.
Our Solar System jigsaw puzzle come beautifully packaged in a presentation box and we have included a drawstring cotton bag for storage after play