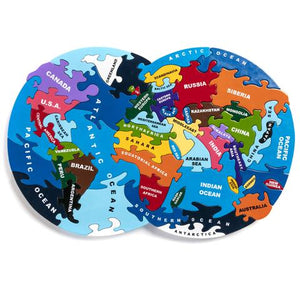 Our Map of the World is an incredibly intricate wooden jigsaw puzzle that is suitable for young and old alike. Each chunky interlocking piece represents a separate country or continent, ocean or sea.
Building this wooden jigsaw puzzle is a brilliant and challenging way for children (and adults!) to learn some basic geography.
Hand painted in vibrant colours, this wooden map jigsaw puzzle is designed to be educational and fun!